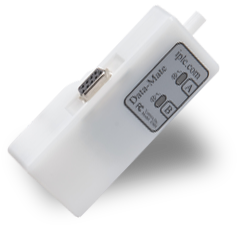 IPLC Programmer
Configure, report and program.
The optional IPLC Data-Mate is a companion hand-held device designed to transfer information between IPLC units and your Windows-based computer. The proprietary software allows you to change factory settings as well as customize individual or all of your IPLC outlets and print reports to show the power savings.
Shipping
Shipping is estimated at checkout.
Returns
30 day return policy, see Refund Policy.
Model
| | |
| --- | --- |
| Model | IPLC Data-Mate Model: DM4 |
Pre-Programmed Schedule
| | |
| --- | --- |
| Schedule | M210-15 |
| Initial Power Delay | 2.05 Hours |
| Load Limit | Up to 1,800 Watts (15 Amps) |
Specifications
| | |
| --- | --- |
| Model | IPLC Data-Mate Model: DM4 |
Software Requirements
| | |
| --- | --- |
| Operating System | Windows® 98, Windows® XP, Windows® 7, Windows® 8 and Windows® 10. Works with 32 or 64 bit operating systems |
| RAM | 8 MB |
| Available Space | 4 MB |
| Ports | 2x USB Ports |
| Input Devices | Keyboard and Mouse |
| Video Card | Minimum 640 x 480 VGA compatible |
| Printer | Graphics capable printer with Windows driver |
Specifications
| | |
| --- | --- |
| Exterior | Polyethylene Plastic |
| Indicator Lights | 2x Green and 2x Red LEDs |
| CPU Access Port | IR (Infrared) |
Physical Information
| | |
| --- | --- |
| Width | 1.75 inches |
| Height | 1 inch |
| Depth | 5 inches |
| Weight | 0.25 lbs |
Packaging Details
| | |
| --- | --- |
| Box Width | 12 inches |
| Box Height | 3 inch |
| Box Depth | 9 inches |
| Box Weight | 1 lb |
What's in the Box
| | |
| --- | --- |
| Product | IPLC Data-Mate Model: DM4 |
| Connection Cable | Personal Computer Serial Cable |
| Power Source | Alkaline 9V Battery |
| USB Flash Drive | Windows Software, PDF Technical Documents, Manuals and Videos |
Warranty
| | |
| --- | --- |
| Term | 3 Years |
| Coverage | Materials and Workmanship |
| Software Updates | Free Product Lifetime |